Australia election 2022 live news: Anthony Albanese accuses Scott Morrison of 'allergy to the ABC' | Australian election 2022
Albanese on PM: 'It's like he has an allergy to the ABC'
Q: The polls show that you're on track to win government. Are you heartened by this or sceptical of it?
Anthony Albanese:
I am focused on May 21 and that election timetable. We're focused on May 21 on getting there. But we're also focused on the next election as well.

I'm focused on an agenda that's achievable. An agenda whereby we can point back and say – we've promised you a better future and we're delivering it.

We're delivering cheaper childcare. We're delivering more manufacturing jobs.

We're delivering a pathway to reducing our emissions.

We're delivering more secure work. We're delivering on cost-of-living pressures by dealing with cheaper childcare, cheaper energy bills, cheaper medicines. That's my focus.

Polls come and go. I welcome the debate that we had last time. I make this comment – I thank Channel Seven for hosting last night. And previously, Channel Nine and Sky News for hosting the three debates that we've had. I make this comment – I cannot believe that the national prime minister will be the first one during a campaign who has not appeared on any ABC programs. It is like he has an allergy to the ABC. No debate on the ABC. No appearance on Q+A. No appearance on RN Breakfast. No appearance on ABC Breakfast. No interviews on Insiders, on the major programs, and no appearance yet at the National Press Club.
Q: You touched on female workforce participation last night. Labor's national platform talks about lifting paid parental leave to 26 weeks. In an interview last year, you said that you would consult on this. Why are you therefore not taking a policy on lifting paid parental leave to the election?
Anthony Albanese:
Because what we've done is take policies to the election to the $1tn in debt. Hang on, can we get some order whereby you ask a question and then I'll answer it. That's the way these things work. So that there's some order.

You ask your question and I'll give you the answer. We will inherit $1 tn of debt if we are successful. If we are successful.

The government doubled the debt before the pandemic.

What we have said is – we will make clear commitments for things that we are absolutely certain can be delivered. Can we undo 10 years of damage under this government?

Ten years of damage in one year, on day one? No, we can't.

What we can work towards is repairing the way that Australia works so that people aren't left behind. Repair the way that Australia works so you get a real reform agenda and economic growth in sustainable way. The way Australia works so that we improve the economic participation of women.

Their biggest commitment that we are making that's on budget during this campaign is our childcare commitment. It's less funds, less of an investment, because it is an investment, it produces a return.

Less of an investment than the waste of $5.5bn that this Government put towards the French subs. All they've got is a torn-up contract.

Because guess what – those French subs are never going to surface.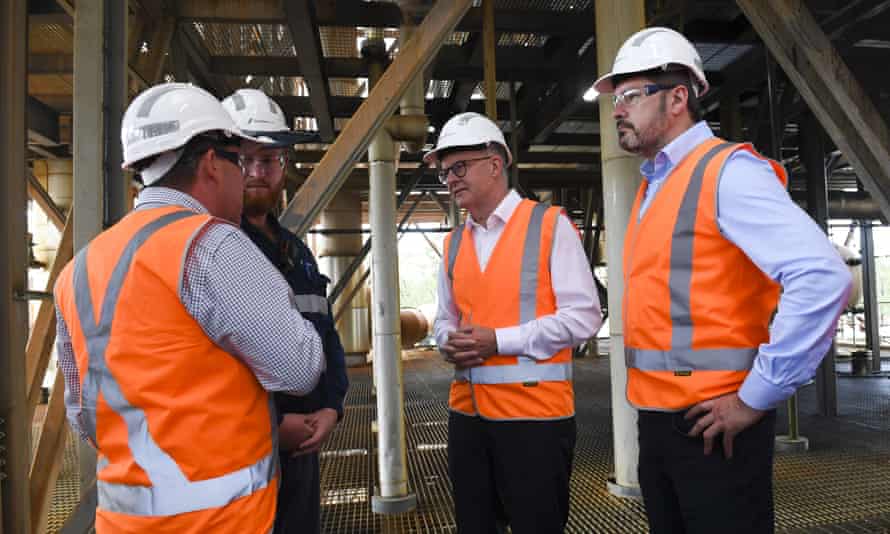 Q: Can I clarify – forgive my ignorance on the Fair Work [proceedings]. Can governments override the decision by the Fair Work Commission?
Anthony Albanese:
No. The Fair Work Commission is an independent body of government.
Q: And if it goes less than 5%, like, what would your response be?
Albanese:
The Fair Work Commission is independent of government … What I said the other day and I stand by consistently, is that if the Fair Work Commission makes a decision which says that real wages for minimum wage workers should not be cut, that is something that I would welcome.
Ed Husic:
I want to pick up on a couple of points in terms of your question.

Over in January I took a trip to North America to see the Tesla batteries there … Doing lots of battery manufacturing.

Many jobs in that part of the world. And talking with them about, because a lot of people, lots of companies overseas cannot figure out how they have so many resources and we haven't taken the step to capture the full value of that.

Knowing how many thousands of jobs can be created.

Talking to them without, one of the things that they said ideally particularly about places like Gladstone, they would like to have one of the best ports in the country to be able to ship batteries around because lots of surface transport have to be used.

So that thousands of jobs are created, you have ideal infrastructure here in a state government that wants to partner up. In terms of things like hydrogen as well, I make this point, lots of manufacturers are worried about rising cost of gas.

The Coalition has done very little to try and address this. They had big plans around a gas-fired recovery.
Q: How do you plan on avoiding the boom and bust of the LNG industry?
Anthony Albanese:
What we are planning is to have a boom, and a further boom and a further boom.

One of the things happening with areas like battery storage, this isn't just about this, we speak about batteries, people think about electric vehicles and, yes, that is part of it.

It is also about storage for households: one in four, I think, is the figure now.

Australian households have solar panels on their roofs. Far less than that have storage. Because of cost and those factors. It is about that for households.

It is also about storage for industry. It is about how you drive that change through.

This is a growth industry into the future. It will create jobs not a short-term but in the very long-term.

And Gladstone is ideally positioned, I would like to comment on this as well.

Gladstone is ideally positioned, because it has a deepwater port, the people we met this morning, the young women who are working here. Doing Tafe courses in chemical engineering and skilling up.

These are good jobs, good jobs right here in Gladstone …

One of the things they are looking at here is expanding further into the future. If we get this right, we have enormous opportunities in the future …

One of the things about the debate, what we will have as a national reconstruction fund. Which is $15bn, an independent board that is provides the support for investment going forward and we will make sure as well but we work with Australian industry to make sure that the benefit is kept here.
It is very hard to hear this press conference – there is a lot of machinery in the background and the journalists seem to have trouble hearing the answers on the ground.
Anthony Albanese:
N

The idea that we would support a real wage cut for people on the minimum wage is I think the extraordinary claim.

I think what is extraordinary about this debate is that a prime minister who says that people who are cleaners, retail workers, people who got us through the pandemic, should get a real wage cut is really what he is saying. We will put in a submission …

What I have said consistently, and will each and every day, is that if the Fair Work Commission, that operates independently of government, independently of government, makes a decision to not cut real wages and keep up with the cost of living, that is something that I would welcome and I welcome it absolutely.
Anthony Albanese:
Before I take questions, I do want to note that Queensland has once again been hit by floods including the loss of life. A tragic loss of life this week. I want to send my condolences to the family of the woman who has lost her life.
Anthony Albanese makes battery manufacturing announcement in Queensland
The Labor leader is in the central Queensland seat of Flynn, where Gladstone mayor Matt Burnett is trying to win the seat against former LNP state MP Col Boyce.
Boyce is expected to retain the seat for the LNP.
Albanese:
It is great to be back in Gladstone. I think this is my fifth visit at least to Gladstone, as the Labor leader, because Gladstone is a great industrial centre here in central Queensland. Today's announcement is consistent with our attitude. A key part of our policy is that we need a future made in Australia. We need to rebuild in manufacturing in Australia. One of the lessons at the Covid pandemic is that we need to be more self-reliant and make more things right here. Today's project does just that. It is also about getting more value out of the supply chain. Making sure that we send a message as well that Australia, under a federal Labor government is open for business. Open for the opportunities they can come from making more things here.
Queensland reports three Covid deaths
Queensland has also posted: